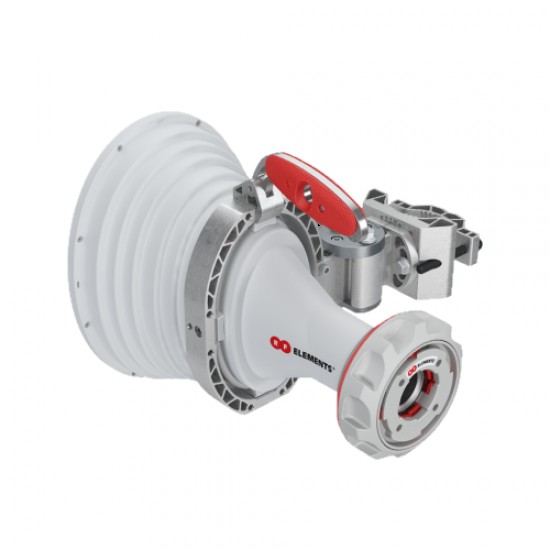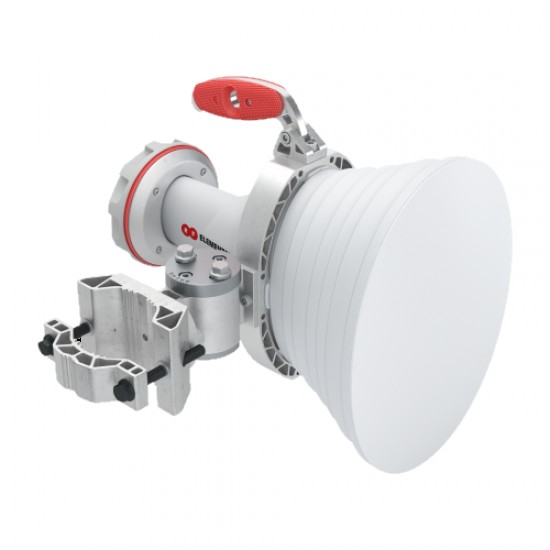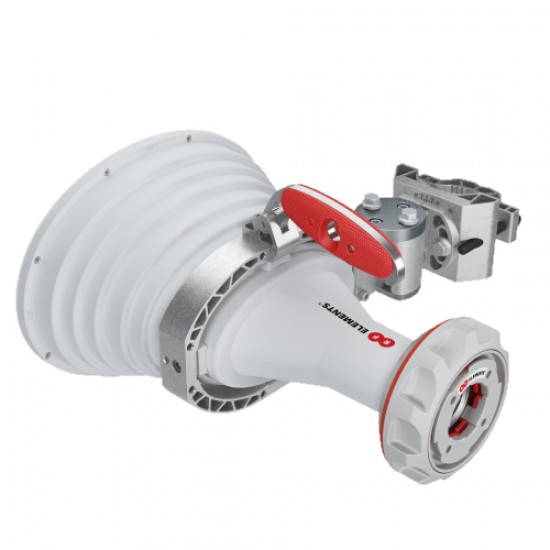 RF Elements AH2030-TP Asymmetrical Horn 30° Sector
AH2030-TP is a 5GHz sector antenna of the "horn" type from the RF elements workshop and features an 30° asymmetric beam angle, 20 dBi gain and a Twistport connector. This antenna offers the perfect combination of features and functions that address the major weaknesses of today's mainstream sector antennas.
BeamSwitch - 20 or 30°
BeamSwitch feature enables mounting the antenna with 90 degrees rotation by swapping the position of the handle and the bracket. AH2030-TP can thus provide 20 degrees azimuth and 30 degrees elevation beam width.
TwistPort Connector - Convenient and Lossless
Asymmetrical Horn TP Antennas feature our industry-changing TwistPort connector, a patent-pending quick-locking waveguide port. TwistPort is virtually lossless: there are no coaxial connectors or cables that attenuate signal. Connecting radios is ingeniously simple - "twist and lock" - with a single hand!
No Side Lobes
Asymmetrical Horn AH2030-TP Antenna has naturally depressed side lobes: it focuses energy into single main beam. Absence of side lobes enables excellent noise immunity of Asymmetrical Horn TP Antennas.
Pefect Coverage Pattern
Mainstream patch array sector antennas have radiation pattern extremely wide in azimuth and extremely flat in elevation plane. If an AP is deployed on a tall tower, customers near the tower suffer from low AP signal level. Asymmetrical Horn TP Antennas provide valuable extra degrees in elevation beam width, shrinking the null zone while preserving increased gain for long range performance.
Breakthrough Scalability
Horn TP Antennas provide extraordinary scalability options. Asymmetrical Horn TP Antennas are new addition to the tool box. Unique beam performance, precise radiation patterns and increased gain push system scalability even further.
Cross-Platform Compatibility
For use with third-party products such as MikroTik, Ubiquiti or Cambium, RF elements offer a wide range of adapters that allow you to easily connect these devices to the TwistPort connector. This allows you to transfer any unit to another antenna with a single click without screwing pigtails.
Innovative Bracket
Asymmetrical Horn AH2030-TP Antenna features an innovative mounting system. The mount is separated from the antenna, making the installation and adjustment quick and easy.
Package Contents
Antenna

Precision bracket
Technical parameters
| | |
| --- | --- |
| Wireless features |   |
| Polarization | VH |
| F/B ratio [dB] | 35 |
| Wireless frequency | 5 GHz |
| Elevation beam width (-6dB) [°] | 20 |
| Azimuth beam width (-6dB) [°] | 30 |
| Antenna type | Sector |
| Antenna gain [dBi] | 20,5 |
| Connectors and Interfaces |   |
| RF connectors | TwistPort |
| Physical characteristics |   |
| Designed for mast diameter [mm] | 40 up to 80 |
| Wind load [km/h] | 160 |
| Protection class | IP55 |
| Purpose | Outdoor |
| Material | Aluminum, UV stabilized ABS plastic, Stainless steel, Polycarbonate |
| Operating temperature [°C] | -35 up to 60 |
| | |
| --- | --- |
| Retail price | 401.50€ (477.79€ Inc. VAT) |
Stock:

Low Stock (2)

Model:

AH2030-TP

Weight:

9.50kg

SKU:

AH2030-TP

MPN:

AH2030-TP

Warranty:

24 - Months